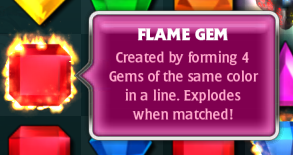 Flame gems are created when four gems of the same colour are matched. When a Flame gem is matched, it will destroy the surrounding eight gems in one huge explosion. Other flame or lightning gems surrounding it will also be ignited, creating a chain reaction. Flame gems can be created in any mode of play except for the tutorial. They are also best used for destroying Coal gems to get a geode bonus or destroying doom gems.
Appearance
Edit
These gems appear to be flaming brightly, and strangely, the fire does not pass to other gems or burn adjacent coals.
Classic Mode
Edit
These gems are cheap and easy to make, so they will come in handy if a doom gem appears. They can also be placed in a cluster of locked gems and ignited, destroying all gems (including locked ones) in the vicinity. In emergencies, flame gems can also be used to destroy bomb gems.
Challenge: Detonator
Edit
These gems are also useful on these challenge planet, as the main objective is to destroy a number of gems in one move.
Challenge: Firestorm
Edit
In this challenge planet, Flame gems are the main element of the challenges, which are to destroy an number of flame gems within the allocated time. Flame gems are easy to make, as only four gems (of the same colour) are needed to create a flame gem.
Challenge: Survivor
Edit
In this challenge, a Locking Doom Gem (usually impossible to match) will appear at the beginning of the game. every time a doom gem is destroyed, another one will appear two turns later after the destruction of the earlier doom gem. It is best to keep some flame gems beside every doom gem and ignite them when the doom gem's timer reaches the number 5. Do not attempt to destroy a doom gem as soon as it appears, as it will be a waste of turns that could have been used to do something else more important.
Challenge: Coal Mine
Edit
In this challenge, there will be a few challenges that will require the player to destroy a allocated number of coal gems without using lightning, which means that no lightning gems or supernova gems can be used to destroy coal, or if used, will not count. Use flame gems to destroy the coal. It is best to keep the flame gems adjacent and right beside each other and line the columns beside the flame gems with coal. In that way, when one flame gem is ignited, it will result in a chain reaction which ignites all the other flame gems and simultaneously destroying adjacent coal gems.